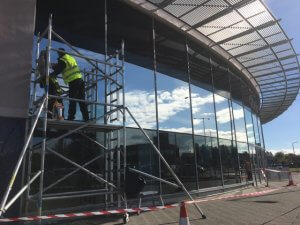 Vacancy Title: Trainee Window Film Installer
Vacancy Full Description:
Full-Time position for person looking for a career in the window films, signs, graphic design and printing industry. We operate in a business-to-business environment, so good people skills are important. You will be required to work in a team and also independently. You must display a willingness to learn how to install all types of window films and manifestations for glass.
Location:
We are based in St. Helens/Prescot. Your work place can be everywhere from building sites/office blocks/schools/stadiums/hospitals etc. The role is very varied and very hands on.  Early starts and travelling across the North West & Wales is a basic requirement. A flexible approach and a willingness to work out of hours will also be essential to ensure that deadlines are always met.
Benefits:
Opportunity to work in different exciting locations daily
Develop a new range of skills and become the best in the industry
Flexible working
Company vehicle/phone
Standard holiday/sickness pay
REQUIREMENTS (Training can be offered where necessary)
24 years old (minimum for insurance purposes)
Numeracy and English language skills/comprehension are essential
Honest, Reliable, Presentable
Able to work independently without supervision
Strong attention to detail
Good level of fitness
Able to work at height
Capable of operating machinery
It is worth noting that the successful candidate will only be appointed following a successful DBS check.  This is a company policy and is non-negotiable.
A full clean driver licence would be an advantage as they will be expected to drive company vehicles.
Please send a full CV to info@windowfilms2000.co.uk