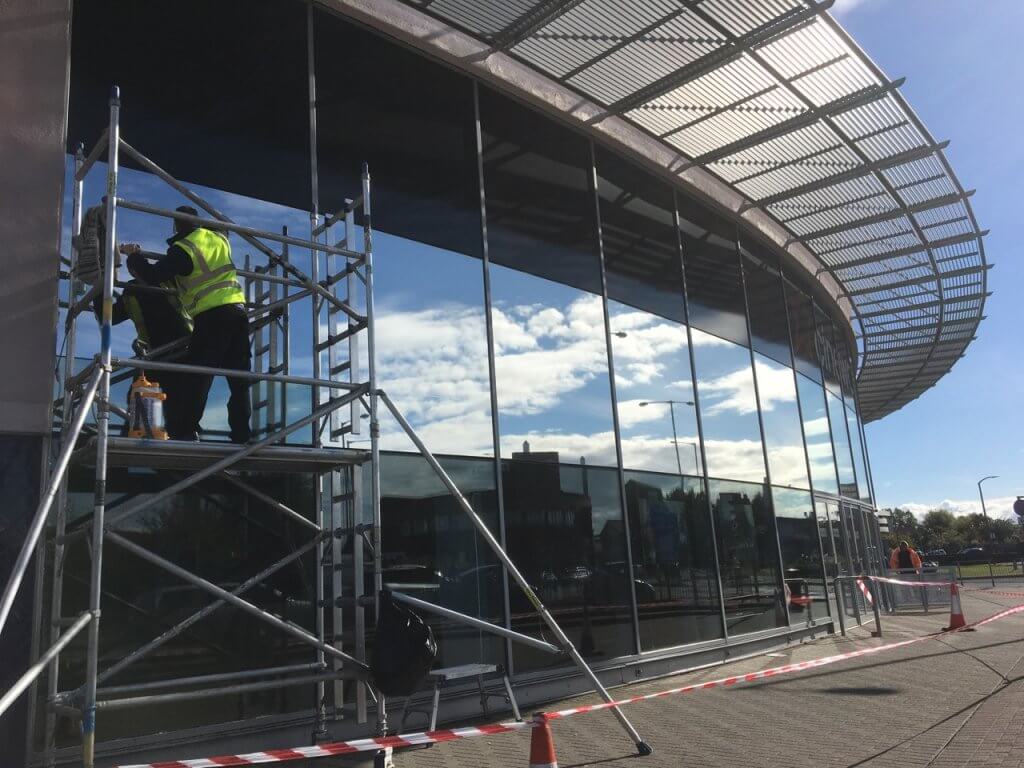 Massive 91% Reduction In Glare for Cineworld
Situated on the main road into St. Helens, this Cineworld Cinema had major issues with the sunlight streaming through the large glass facade on the front elevation of the building. Employees were unable to see the screens on the tills, were complaining of headaches and the popcorn and ice-cream concessions were overheating.
Following a site meeting and a glass survey, we recommended a dark Dual Reflective Window Film to the top row of glass. Due to the risk of thermal breakage on large laminated panes of glass, we proposed an exterior installation of our Dual 07 Extra Window Film that has an amazing 91% Glare Reduction.
Having previous experience in installing high-performance films to large panes of glass in busy public areas, we advised that all works were completed early in the morning. Working off an aluminium scaffold to a height of 8 metres, our PASMA Trained operatives completed the installation quickly and safely, with no disruption to the busy cinema.
There was an immediate reduction in glare. The general manager was impressed not only with the recommended product but also with the speed and efficiency of the installation. Staff are now more comfortable in their working environment and cinema-goers can now enjoy the latest blockbusters with their favourite ice-cream at the right temperature.
Click Here For Dual 05 Datasheet