"Voronoi" Glass Partition Graphics – Manchester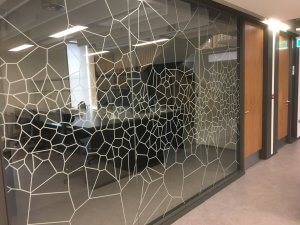 "Tessellations of regular lattices"– we call it graphics on glass
Voronoi diagram is a mathematical design based on the partitioning of a plane into multiple cells or seeds. Designed by Georgy Voronoi in 1908, this diagram has practical and theoretical applications and is very popular in the educational and science fields.
As a continuation of the design from the exterior curtain wall scheme, we were asked to provide a similar solution to the internal glass partitions. Meeting DDA Regulations but providing a clear view between the internal laboratories and teaching spaces.
Due to the intricate detailed designs go the Voronoi pattern, we suggested our popular Optically Clear Window Film with a high density white print. This high end product gives the impression of graphics printed directly onto glass without the expensive costs and also long lead times.
To achieve the similar appearance of printed graphics on glass our team of expert installers have years of experience in fitting Optically Clear Window Film to the highest standards to achieve a unique and stunning finish